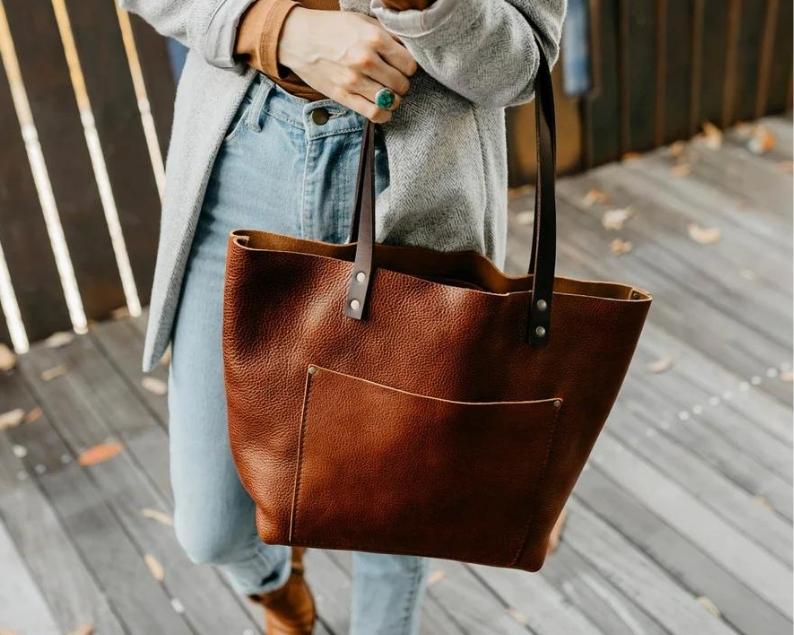 View Larger
Tote Bags are made with premium grade of Top grain leathers handcrafted with latest design and high-quality stitching, which provides you with functionality along with style, elegance and made to last for long. Designed to fits perfectly for comfortable storage. Women who love to carry their stuff in style, this strong and durable leather tote bag with a shoulder strap is a perfect choice for you.
Leather Tote Bags
FEATURES

- Leather tote bag with leather handle and outer pocket
- Made with 100% Top Grain Leather 
- Dimension : 
Small - Measures 10" wide across the base, 13" wide across the top, 4.5" deep and 11.5" tall
Medium - Measures 10.5" wide across teh base, 15" wide across teh top, 5.5" deep, and 12" tall. 
Large - Measures 11" wide across the base, 18" wide across the top, 6" deep, and 12" tall.
- Handle : Handle size is 10.5" regardless of the size of the tote,
-Closure Type : zipper

- Color : Tan
- Strong & Durable

- Sewed with high quality threads and materials for durability
WHY SHOULD YOU CHOOSE Boston Creative Company ??

Our products are exquisitely handcrafted. We make our leather goods with only Top grain leather, the highest quality grade of leather that lasts lifetime and, NOT genuine leather which is not real leather. We pride ourselves on the quality and craftsmanship seen throughout our ranges of all the leather products and accessories of men and women.
CLICK THE BELOW LINK FOR MORE COLLECTION:
https://bostonleathers.com/collections
Sidebar