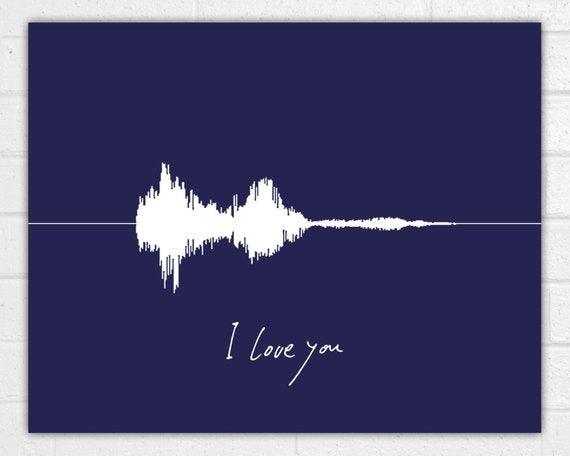 View Larger
This unique piece will forever visually capture a voice, song, or other audio moment as a truly special gift. See your recording as a sound wave, be it an "I love you" or a "thank you," or even wedding vows or a heartbeat. Frame it and present it as a Mother's Day or Father's Day gift, anniversary gift, Valentine's Day gift, Christmas gift, grandparent gift, or thank you gift. The possibilities are endless!
Your unframed print features:
Your choice of colors. Don't see what you like? Message me, and I'm happy to color match!
Your choice of background color or a chalkboard background. (Note: I recommend white or chalkboard background on the two larger size prints.)
Your choice of quote and message to be printed beneath the wave
Up to eight voices/recordings
Please convo me with any special requests or questions.
Want just the JPEG?  - Order Download file
I am very flexible and will work with you on colors and fonts if you'd like something not shown in the listing. You will receive a proof of your print for approval before it ships.
You will be asked to choose your print size and then number of waves/voices when you order. (One song=one wave. One voice=one wave.) You will also choose a quantity (number of final prints).
The time in which you receive your proof dependents on my work load. Please pay close attention to the turnaround time associated with this item. If you'd like to rush your processing and move your order to the top of my queue, please add this rush listing to your cart:.
THIS IS SUCH A COOL IDEA! (BUT HOW DOES ITWORK?!)
Upon ordering, all you need to do is send an audio or video recording of the voice(s) (separate recording for each voice) tosales@bostoncreativecomapny.com. Ill create the wave on my end. Most people use their smart phones to do the recordings (voice memo, video, audio app, etc.). Please know that while I can create prints based on ultrasound images, I prefer the audio/video, as the wave looks very different and more like what you see in the listing description. Ordering a print based on an image is at the discretion of the customer.
If you order a print with multiple waves, please be sure that the voice for each wave is in its own recording or made at separate times in the same recording. Please know that I cannot pull simultaneous talking apart to create separate waves. If you have submitted a simultaneous recording, feel free to resubmit so that your proof is not delayed.
To see a sound wave of a song, please use the "one voice" option at checkout. I do recommend that a line or chorus from the song be used, as the entire song will appeared scrunched on the print. I'm happy to do the entire song, but again, the piece of the song I use is at your discretion.
Be sure that you leave information regarding the colors of the wave(s) and background for your print(s), as well as the text to be included on the piece. This information can be left at checkout section or in the original email with your recordings. If you have forgotten to send this information at this point
Proofs are sent one day before or the morning of the ship date.
You will receive a confirmation email upon sending your recording. Please know that this means that your recording has been submitted and received. We will contact you if I'm missing any information regarding your order.
If you need help with any of this, feel free to reach out to us. Thank you!
Sidebar