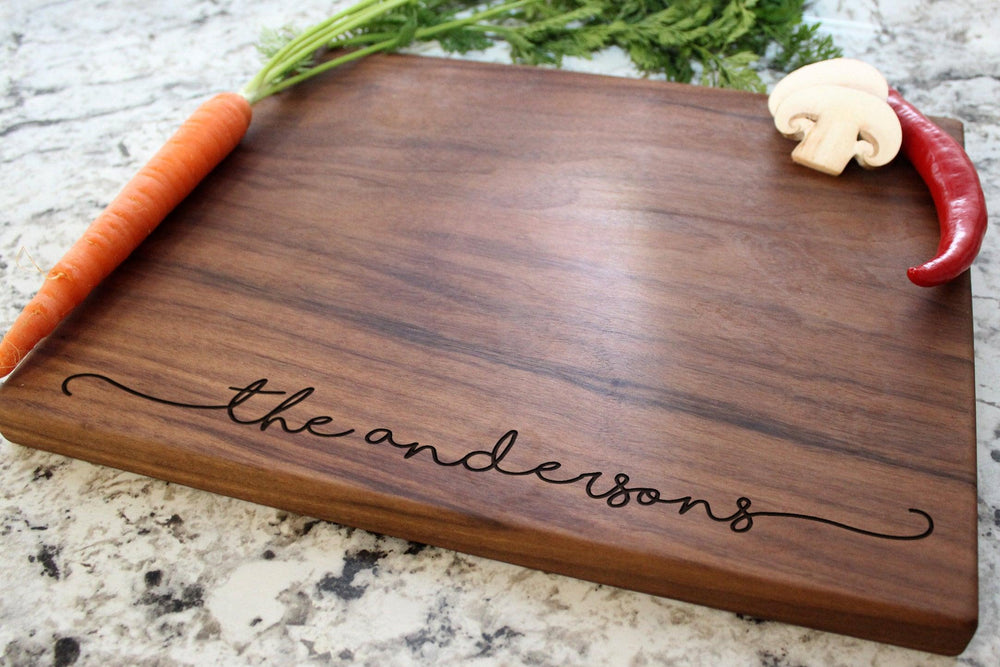 View Larger
Handmade

Materials: Laser, FG mineral oil, handmade, natural wood

Read the full description
Sustainably Sourced Natural Solid Hardwood - We only use top-grade hardwood that is FSC certified and sustainably sourced so you can rest easy knowing your cutting board is environmentally friendly

No Chemicals, Stains, or Lacquers – We only use food grade mineral oil and glue on our boards so they're 100% food safe

Handmade In-House – Every one of our cutting boards is handmade in our shop by expert woodworkers who truly care about the quality of the product you receive

Add Your Personal Touch – Whether its a gift or for your own home, our cutting boards are easily personalized to fit any occasion

Over 500,000 Happy Customers - With over 8 years of experience and half a million boards produced, we know what we're doing so you can trust that we'll get it right the first time

Our personalized cutting boards make fantastic gifts for any occasion. They are the perfect gift for a family member, friend, or that special someone in your life. Surprise others with a unique wedding, anniversary, or housewarming gift, or show your appreciation with a one-of-a-kind party favour for your wedding party and guests. A customized cutting board also makes an excellent corporate gift for a business partner or as a closing gift in celebration of your client's new home purchase.

Our cutting board production is an elaborate process with multiple steps of quality assurance to guarantee you receive a top-quality product. At Straga we take pride in producing quality, unique, beautiful cutting boards that will be a part of your kitchen for years to come.

See the technical details and how to order below:

CUtting Board Size 9 x 12 inches.

WE NEED TO KNOW:

1. Capital Letter. Must be present. Up to 2 characters in case there is a double last name.
2. Date (MM.DD.YYYY). Please, provide the date or write N/A if you would like to exclude it.* Date / Year format cannot be changed.
3. "Est."- Yes / No. Please select "Yes" if you would like to have it on the board or "No" otherwise.
4. First Names. Please, provide first names with an ampersand according to the artwork example or any text up to 50 characters. We will copy and paste whatever will be provided.
5. Last Name. Please, provide last name according to the artwork example or any text up to 50 characters. We will copy and paste whatever will be provided.

 
Sidebar