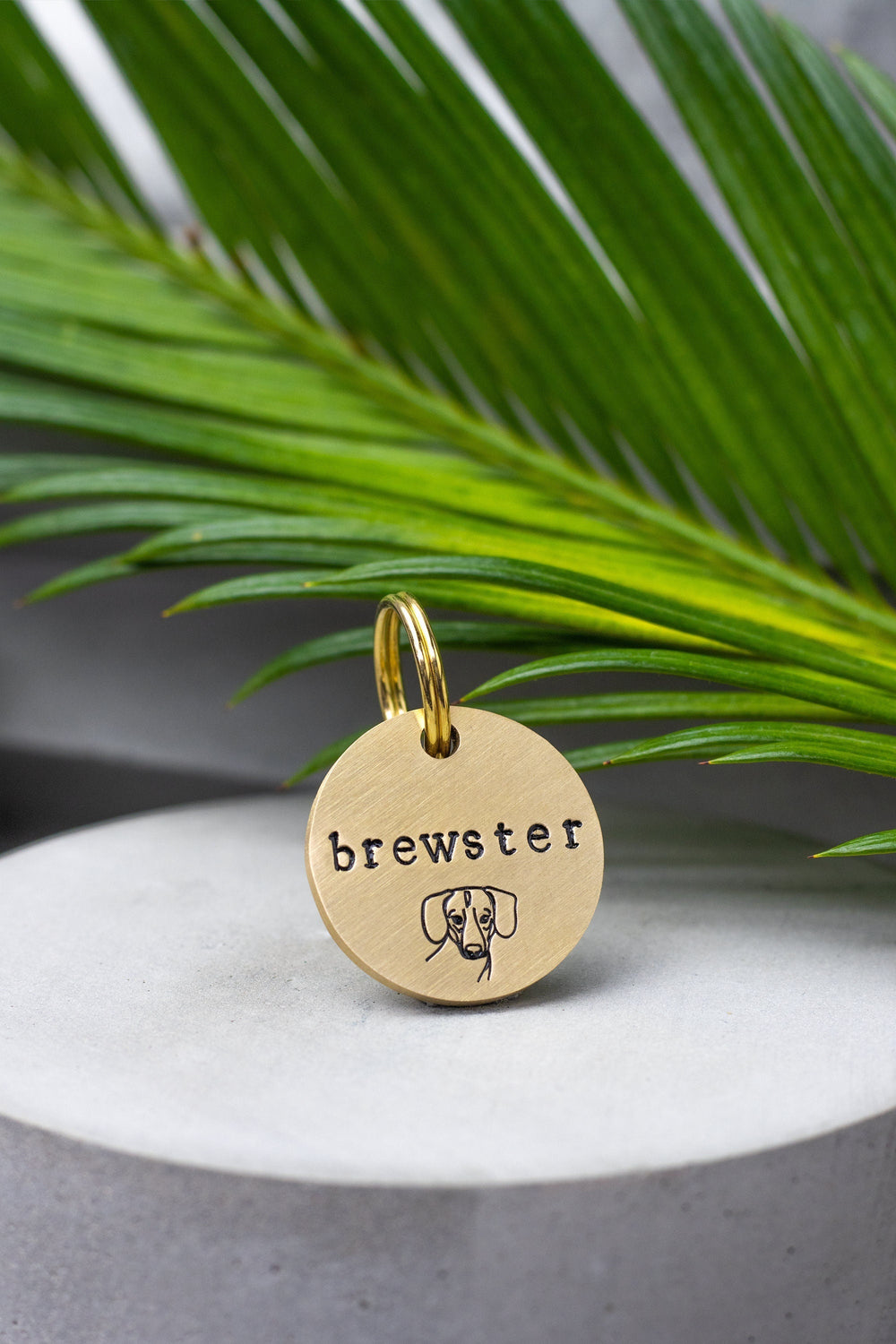 View Larger
Handmade
Materials: Brass or Nickel Tag, Split Rings
  Shop our custom personalised dog name tags in brass or nickel. Each one of these stylish pet ID tag discs are hand stamped to order, which means you'll be purchasing a one of a kind gift for your pet!
DETAILS
★ Made from 2mm thick brushed brass, or 1.5mm nickel
★ Includes split ring for easy attachment to your dog's collar
★ With our engraving service, you can also have your contact details engraved into the back of the tag.
As each tag is unique and depending on the the size of the tag you choose slight variations in the design, alignment and colour are to be expected.
If you're looking for a collar to compliment your new pet tag, head to our dog accessories store 'The Stately Hound':
https://etsy.me/30N8tem
ENGRAVING
If you opt for our double sided tags, not only can you have your pets name on the front of the tag, but you can also have your contact details engraved on the back.
On our 25mm tag you can have up to 3 lines with no more than 14 characters (including spaces) on each line, and up to 4 lines on our 30mm tags.
GUIDANCE
We recommend our 25mm tags for small to medium sized dogs, such as Dachshunds, Terriers, Miniature Poodles, Cockerpoo's, Schnauzers and spaniels. And our 30mm tags for Bulldogs, Collies, Dalmatians, Labradors and Retrievers
UK DOG TAG REQUIREMENTS
If you're in the UK and using this item as an ID Tag, to adhere to the UK requirements, the Control of Dogs Order 1992 states that 'any dog in a public place should wear the name and address of the owner either inscribed on the collar or a name plate or disc attached to it'.
Your telephone number is optional but we would highly recommended it.
Here's a suggested example of what is required on an ID dog tag:
A Barker
52 / PAW 01S
07010 123456 (optional)
OR
A Barker
52 Woof Street
PAW 01S
07010 123456 (optional)
Sidebar