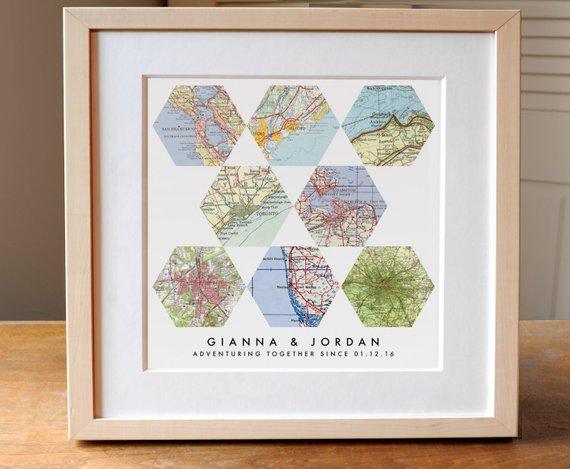 View Larger
This lovely print makes the perfect unique gift. Choose ANY eight cities in the world to feature! We have a vast resource of maps to use, so even small towns are no problem most of the time.

This listing includes options for both an unmatted, unframed print OR framed print. Printed on premium archival quality thick paper stock with a slight felt/watercolor texture.


▧ HOW TO ORDER ▧
Please add the art to your cart as usual, and leave a note at checkout with the customization information:
• The names to be featured
• The cities to be featured
• The significant date

Please see the scale of the maps in the photo -- your maps will likely be the same scale, so if your town is small please realize it may look small on the map!


▧ PREMIUM FRAMING SERVICE ▧
We offer professional framing services to complete the perfect heirloom art gift
• All frames are hand built in-house
• Hanging hardware and dust cover installed
• Wrapped in craft paper and stamped as an authentic A Gier Design product

All of our mouldings are solid wood. Our black, white, and gold options are gessoed and painted for a smooth matte finish. The Maple is a premium hardwood option that will be more resistant to nicks and dings, and it is coated in a clear varnish to bring out the natural lustre of the wood grain.

• Printed gift wrap is $5
• Gift notes can be included in any order for FREE, just ask!

Our unframed prints are standard sizes, so if you prefer to purchase your own frame you will have no problem finding many options.


▧ TURNAROUND TIMES ▧
The normal turnaround looks like this:
proof - 3-5 business days
framing - 7 business days
+ shipping time (standard USPS is 3-5 days)

Any of those stages can be rushed, and the rushed speeds are:
proof - 1 business day (weekends and holidays not included)
framing - 2-3 days
shipping - 2-day, 3-day, overnight
Link to rush add-ons:


▧ REVISIONS ▧
Up to 3 revisions are included in the original cost of any personalized art in the shop. Revisions will be done as soon as possible, but expect 1-2 work days for each round. We are out of office on the weekends, so please exclude them from turnaround estimates.

If we do not receive a reply to our proof messages for over 2 weeks we will consider the order abandoned and we will ship the art as-is without approval.
Sidebar