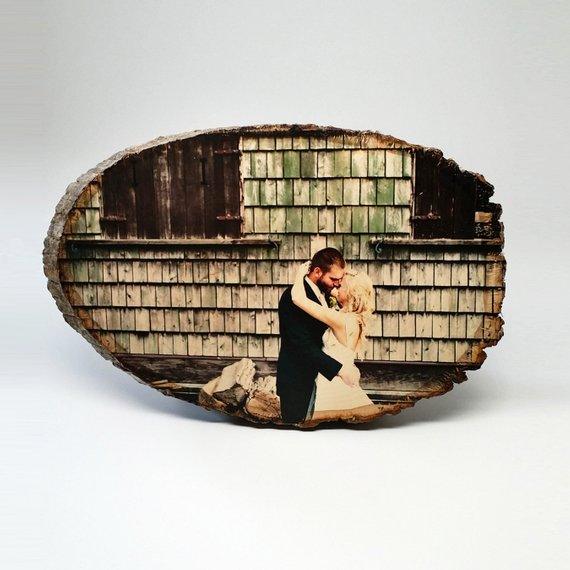 View Larger
Whether you're in search of a housewarming gift, anniversary gift or gift for any other occasion, look no further than our rustic home decor wood photos. This personalized gift option is sure to leave a lasting impression and is a great way to cherish those special memories for years to come.
 About wood photos:
Have your own custom photo printed directly onto our rectangle/square, with no margins or gaps. The photograph becomes an integral part of the wood, ensuring that it will stand the test of time. The natural wood shows through the photo for a beautiful, rustic, and "worn" look. It is said that wood elements within your home can bring balance to your space and life.
Details:
Because this is wood from a real tree, pieces may have knots which we try to place in the best spots possible for the photo provided. 
Each piece of wood will vary in wood grain, making each one completely unique. 
Rectangle pieces measure 8" to 10" in width x 8" in length.
Rectangle pieces typically require less cropping than our oval wood pieces. However, with certain photos that are very wide or very tall, some cropping will be necessary. Please ensure that no important aspects of the photo are located around the very edges of the picture. 
Horizontal photos will be placed horizontally on the wood & vertical photos will be placed vertically unless otherwise requested. 
White ink is not printed on the wood. This allows the natural grain of the wood to show through the photo. Colors of the photo on the wood may vary, as these are printed onto natural wood and not bright white paper.
A clear protective coating is applied over your wood photo to help protect against stains, water and scratching.
All wood photos come with complimentary hardware for hanging. Stands are not included.
The bark of the wood is not removed from the wood in order to preserve the natural look of our wood photos.
All orders are securely packaged with extra bubble wrap for added protection during shipping.
 Choosing your photo:
The better quality the photo, the better the results will be on the wood.
A 300dpi photo taken in good lighting will give you the best possible print results.
Lower quality photos can be used, but please know that the quality will be the same on the wood.
Extremely dark, blurry, grainy or low-quality photos do not typically transfer well.
We ask that you do not add any text to your photo, due to cropping reasons.
How to place an order: 
Purchase this wood photo listing.
Send us a high-quality digital photo to sales@bostoncreativecompany.com. Attach your photo to the message by clicking on "attach image" and selecting your desired photo.
Sidebar