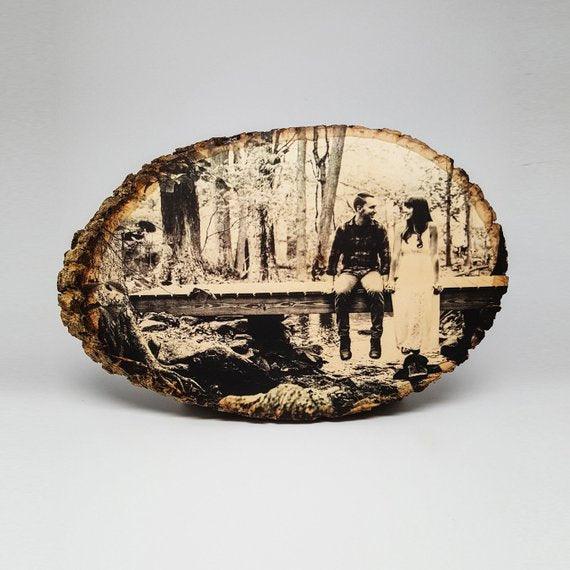 View Larger
If youre searching for the perfect anniversary gift or giftfor any other occasion, look no further than our rustic wood photos. A woodanniversary gift is a great, traditional option for your marriage. Not only areour custom pictures on wood ideal for anniversaries, but also make perfectgifts for weddings, housewarmings and so much more!
About our wood photos:
Have your own custom photo printed directly onto roundbasswood, with no margins or gaps. The photograph becomes an integral part ofthe wood, ensuring that it will stand the test of time. The natural wood showsthrough the photo for a beautiful, rustic, and "worn" look. It issaid that wood elements within your home can bring balance to your space andlife.
Details:
·        Because this is wood from a real tree, piecesmay have knots which we try to place in the best spots possible for the photoprovided.
·        Each piece of wood will vary in wood grain,making each one completely unique.
·        Measuring anywhere from 9" to 12" inwidth or height, depending on the direction of your photo.
·        Photos will be cropped around the corners/edges,as this is the only way to fit a rectangular photo onto an oval piece of wood.All important aspects of the photo should not be located along the very edgesof the picture.
·        Horizontal photos will be placed horizontally onthe wood & vertical photos will be placed vertically unless otherwiserequested.
·        White ink is not printed on the wood. Thisallows the natural grain of the wood to show through the photo. Colors of thephoto on the wood may vary, as these are printed onto natural wood and notbright white paper.
·        A clear protective coating is applied over yourwood photo to help protect against stains, water and scratching.
·        All wood photos come with complimentary hardwarefor hanging. Stands are not included.
·        The bark of the wood is not removed from thewood in order to preserve the natural look of our wood photos.
·        All orders are securely packaged with extrabubble wrap for added protection during shipping.
Choosing your photo:
·        The better quality the photo, the better theresults will be on the wood.
·        A 300 dpi photo taken in good lighting will giveyou the best possible print results.
·        Lower quality photos can be used, but pleaseknow that the quality will be the same on the wood.
·        Extremely dark, blurry, grainy or low-qualityphotos do not typically transfer well.
·        We ask that you DO NOT add any text to yourphoto, due to cropping reasons.
How to place an order:
1. Purchase this wood photo listing.
2. Send us a high-quality digital photo tosales@bostoncreativecompany.com. Attach your photo to the message by clickingon "attach image" and selecting your desired photo.
Sidebar