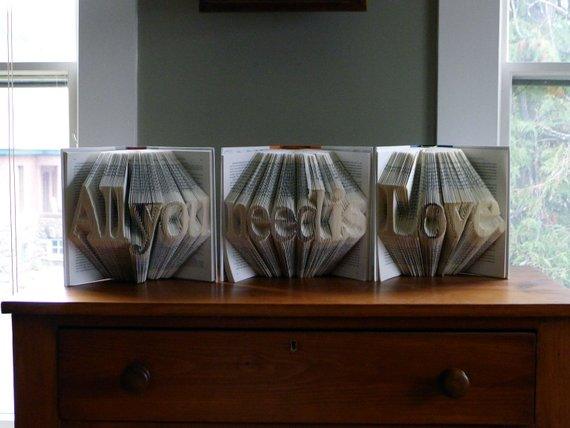 View Larger
Altered Book Art
Create a phrase out of books! Use your favorite quote, a line from a song, a poem, your address, the possibilities are endless!
Ill work with you to design a collection of books that spell out the phrase of your choice. Pictured above is "All you need is Love" and "The best is yet to be".
Just tell us what youd like in your custom folded book in the comments of your order and well make a gorgeous display for you.
Book sculpture will be carefully created, packed and shipped within 3 - 5 business days! WE USE NEW BOOKS!!!
This unique custom book is made by carefully folding the individual pages of a book and can be personalized with a four, five or six digit date. You can also choose to have "hearts" or "dots" that separate the digits.
Please note, this book will be custom Hand made for every order.
Please dont hesitate to contact sales@bostoncreativecompany.com if you have any questions! 
Sidebar